Broome Community Recovery Centre x Done By D
About the Programme
After hosting commercial workshops in the wonderful space graciously offered by the Broome Community Recovery Centre, I was thrilled to receive an invitation to write and facilitate a five (5) week programme for the Women's Art Group. This specific arts group offers clients a weekly lesson in different arts practices. Due to internal reorganisation, the group opened a space for various art facilitators, with a range of practices, to conduct small courses. I am lucky and grateful to be able to share my knowledge of natural dyeing, patchwork quilting, and professional practice development.
The Women's Art Group
A collective of beautiful people open to sharing and learning.
The art group provides a biweekly space for women to celebrate art and crafting techniques. Whilst learning new skills, the group also acts as an incredibly important support network for women living in rural WA. As an artist, I am dedicated to using art and traditional crafts as methods to engage both audiences and environmental issues. Through designing a programme specifically for the arts group (structured around the groups aims and guidelines of respect, helpfulness, safety, and sharing) I have been able to extend the reach of my practice in the Broome community. I am consistently engaged in meaningful interactions and relationships with the women of the art group, the Recovery Centre, and the countries on which I am privileged to live and work.
Guda-Guda Vine
Also known as Dodder Vine, which traditional was used for weaving and wrapping. We used it for dyeing AND to wrap parcels of fabric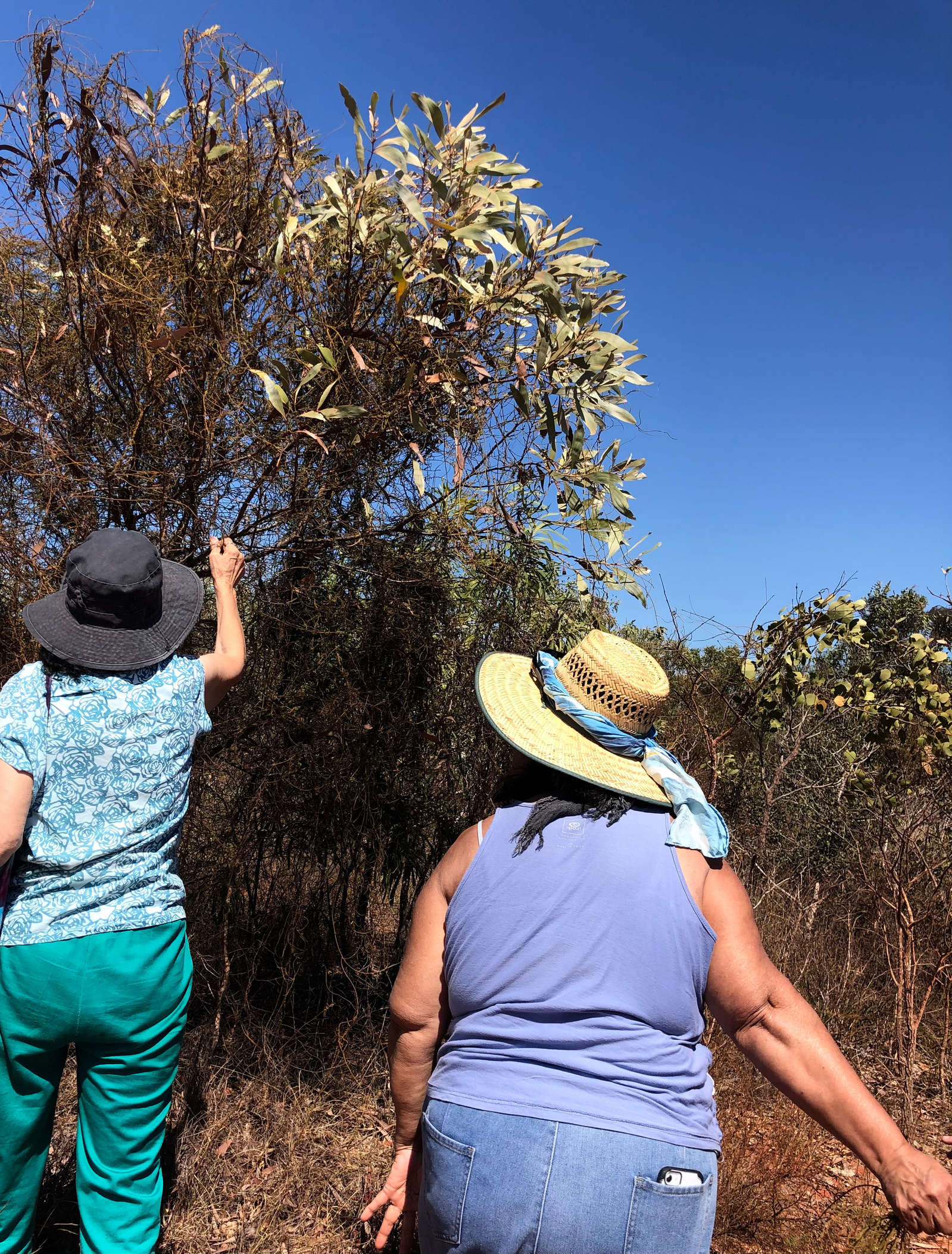 Pat holding Soap Wattle leaves for dyeing
Our foraging bounty
Gabiny leaves, Ghost Gum, Guda-Guda Vine, and more ready to dye
Week 1 - Introduction and Fabric Treatment
Objectives: Engaging in meaningful conversations about our responsibilities as makers; scouring and mordanting fabrics for use next week; understanding basic elements of the natural dye process.
As an artist, I aim to engage a multitude of sensory experiences so that my work can be experienced by a plurality of audiences despite alternate abilities. The first week aimed at introducing the group to fabrics, different treatments, and how to prepare cellulose fibres for cellulose dyes.
Each participant was given a log book to fill, which we started off with terminology, fibre variants, and dye examples. Ultimately this book will act as the bible for each woman's dyeing journey, full of sketches, knowledge and experiments.
It feels extremely important to reflect of individual growth, especially when learning in such an auto-didactic fashion. I cannot wait for the reveal of everyone's journals at the end of the programme. I hope each woman beams with pride when she shares the transformation of her skills and knowledge, as I do with mine.
Week 2 - Conscious Foraging and Dyeing
Objectives: Consciously interacting with local flora; successfully finding at least one plant for dyeing; participating in dye experiments; learning from and respecting the knowledge of our guest, a local elder, teacher, and all round wonderful genius legend named Pat.
Week 2 was spent under the guidance of an incredible woman, Pat 'Mamanyjun' Torres. With wisdom falling out of her ears, I was in awe and adoration of Pat and her willingness to share from her well of knowledge. We were lucky enough to go out and forage on Yawuru/Djugun land, with guidance on the cultural significance and traditional uses for local flora. Under Pat's guidance we were able to forage as a group, thanking the land and Pat's ancestors for the beautiful flora they provided.
Once we got back from our excursion, everyone was excited to jump straight into boiling up the pots and recording the progression of the dye baths over the time we had left.
This session was extremely important to me. I actively endeavour to absorb as much information as I can from Indigenous artists and teachers. To be given the opportunity to host (but mainly study under) an elder through my programme is an experience I will be eternally grateful for.
Week 3 - Design Principles
Objectives: Developing primary sketches for individual projects; discussing and studying basic elements of patchwork design and composition; studying my work and how my composition strays from the path of traditional quilting; basic practice with a range of fabric scraps; and to produce a basic vision for individuals' panels/projects.
In week three participants were invited to create some of their own sketches using traditional quilting shapes such as half-square triangles, rectangles, and squares. As we sat as a group to draw and create, everyone had the opportunity to use their own imagination, and the ideas of other group members. When I was learning to quilt, my classes felt more like long-table morning teas. Drawing from the guidance, inspiration, and knowledge offered by the crafting women who surrounded me, community engagement was (and is) a most important factor in how I have developed my art practice.
I displayed a range of my quilts for the women to feel, investigate, and draw inspiration from. I have found that most participants in workshops (within this programme and others) are best empowered to create once invited to experiment and push against their understanding of quilting.
Week 4 - Patchwork
Objectives: Engaging in creative art practice using the textiles crafted in the previous sessions; confidently using previous sessions' sketches, instinct, and peer support for composition; and using the basic sewing skills clients already have to sew a variety of shapes of patches to form one cohesive panel (miscellaneous sizes).
This week was spent with sewing machines and a pile of fabrics! My favourite kind of crafting day. Each participant had a pile of seven coloured fabrics, all hand dyed in the previous workshops using local flora.
I was beaming with pride when each participant took to sewing like a duck to water. Some using circles (tricky!!), some piecing larger patches together, and others meticulously designing and piecing arrangements to turn into journals covers.
Week 5 - Finishing and Presentation
Objectives: Final sewing touches on patchwork panel; and presentation of a portfolio of work consisting of sketches, dyestuff, and dyed fabric samples. At this stage every participant will have the skillset, and physical evidence of their ability, to continue dyeing with natural dyestuff and fibres.
Throughout the duration of the programme, due to the fluid nature of the workshops and participants' availabilities I realised my initial objectives of presenting a portfolio would be too difficult to achieve. Instead, I redirected this week to focus on completing everyone's individual projects (which varied from journal covers to tablecloths).
In a most wonderful fashion, and pursuant to the nature of this incredible group of women, we spent the week slowly crafting, sharing knowledge, and reviewing the programme and its impact as a whole.
I passed my spinning wheel on to one of the women, who has been aching to learn the craft for decades, and enabled her to develop her own practice beyond the confines of what she thought she had the ability to achieve. Every person left the group with their own journal-style portfolio, the knowledge to continue on a natural dyeing journey, and the empowerment to do so autonomously.
Review
I am extremely grateful to have been invited to facilitate this programme, and to have had the opportunity to teach (and learn from) such an incredible group of human beings. Growing up in Port Hedland, and adventuring the Kimberley throughout my childhood, set the stage for my deep love of West Australia's natural landscape. The vast stoic beauty of the West has always been a major influence on my practice, and I am constantly inspired to generate work based on place. Through my time in Broome, working within the Arts community, I developed my professional practice as much as I grew in my own right as an artist and non-alien human girl.
These are the reviews I received from the group. They make me beam. Not only are they a testament to what my practice has to offer, but the willingness of the WA women makers to learn and grow from one another.
"It was a pleasure to have Darcy as the facilitator. She was knowledgeable, patient, and responsive to our needs."
"Darcy was a wonderful teacher. I learnt a lot from her in this workshop."
"I was surprised how much I enjoyed the workshop. I had doubts at the beginning, but really enjoyed it in the end."
My endless gratitude to Kerri, Amy, Jaz, and Pat for all of their hard work in making this programme a reality.